Our Commitment To You
We aim to look after all our patients in the way we provide for our own family and friends – we trust you will find us friendly, helpful and supportive.
We are an experienced, established and highly qualified team using modern equipment, materials and techniques in a clean, well maintained and friendly environment.
We took over Shipston Dental Practice in 1996 and put systems in place to ensure we can provide the best care for our patients within a modern facility. Over the  years many thousands of pounds have been re-invested into the development of the facility and team, including training from some of the world's best clinicians.
Since May 2003 we have been proud to be a British Dental Association's Good Practice and were one of the first Practices in the UK to reach the highest gold standard. By meeting the requirements of the scheme each year we are shown to be consistently maintaining all nationally agreed standards of good practice, aiming to provide the best dental care for our patients.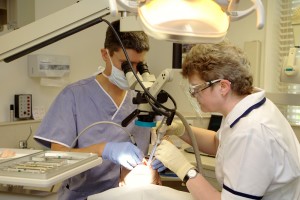 All our dentists and hygienists have an on-going commitment to postgraduate education, leading to post-graduate qualifications and ensuring knowledge and skills are maintained up to date. Ian Preston is a part-time clinical lecturer at Birmingham Dental Hospital and School and he has for many years taught advanced techniques to qualified dentists at London's world renowned Eastman Dental Institute. Carrie Preston has held a clinical assistant post in Orthodontics for over 20 years, working with the consultants at Cheltenham General Hospital and has completed 12 months working part time under the consultants on the Paediatric Department at Birmingham Dental Hospital.
As part of our on going commitment to service development and education the practice dentists have undertaken substantial additional postgraduate studies. Ian has undertaken the Eastman Dental Institute's Certificate in Surgical and Prosthetic Implant Dentistry and holds a Masters Degree in Restorative Dentistry. Also at London's Eastman Institute Carrie has completed the year long course to achieve the UCL Certificate in Paediatric Dentistry. Stephanie was awarded the Diploma of Membership of the Faculty of Dental Surgery from the Royal College of Surgeons and in 2017 she gained a further Postgraduate Certificate in Contemporary Restorative and Aesthetic Dentistry. Aneesh is currently studying for the Faculty of General Dental Practice Diploma in Restorative and Aesthetic Dentistry. This investment will ensure Shipston Dental Practice can continue to offer you and your family the highest levels of care modern dentistry can provide.
The benefits of staff training are valued and supported and all team members are encouraged to undergo formal training. All our dental nurses are registered with the General Dental Council and undertake continued professional development. As dental professionals, we must be registered with and are regulated by the General Dental Council, meet their standards and comply with their nine principles. You will find all our team knowledgeable, experienced and always willing to help.
The Quality Assurance System we operate ensures that:
All our dental care is of a consistent quality
Effective measures of infection control are used
All legal requirements relating to health and safety in the work place are satisfied
All legal requirements relating to the safe use of x-rays are satisfied
Any requirement of the General Dental Council in respect of the continuing professional development of dentists and the dental team are satisfied. For more information visit www.gdc-uk.org
We give infection control a high priority at the practice. Current British Dental Association guidelines are all met or exceeded and our procedures are regularly reviewed and monitored. Disposable items are used where possible and other equipment is sterilised as appropriate.
We are registered with the Care Quality Commission and our last inspection was carried out on 23/2/12. Click here for a summary of the Inspection Report
We have an on-going commitment to oral health promotion within the community including regular school, youth group and nursery visits. We are keen to help establish the best preventative strategies for children as early as possible so that excellent dental health can become part of the routine for every child.